A tension zone is any segment of a web machine in which the tension on the web (in the machine direction) is isolated from other parts of the process. This occurs between the unwind stand and the first driven roll (or nip), sequential driven rolls in process areas, and between the final driven roll and the rewind stand.
UNWIND ZONE (INFEED)
Tension in the unwind zone can be controlled by a pneumatic brake, electric brake or regenerative drive. During machine operation the measurement signal from the tension transducers (load cells) is input to an automatic tension controller. The controller compares the actual tension to a desired tension set point (programmed by the operator) and sends a compensated electric or pneumatic output signal to the torque device. As the roll diameter decreases over time, tension changes registered by the load cells cause the controller to reduce torque to maintain the desired tension set point.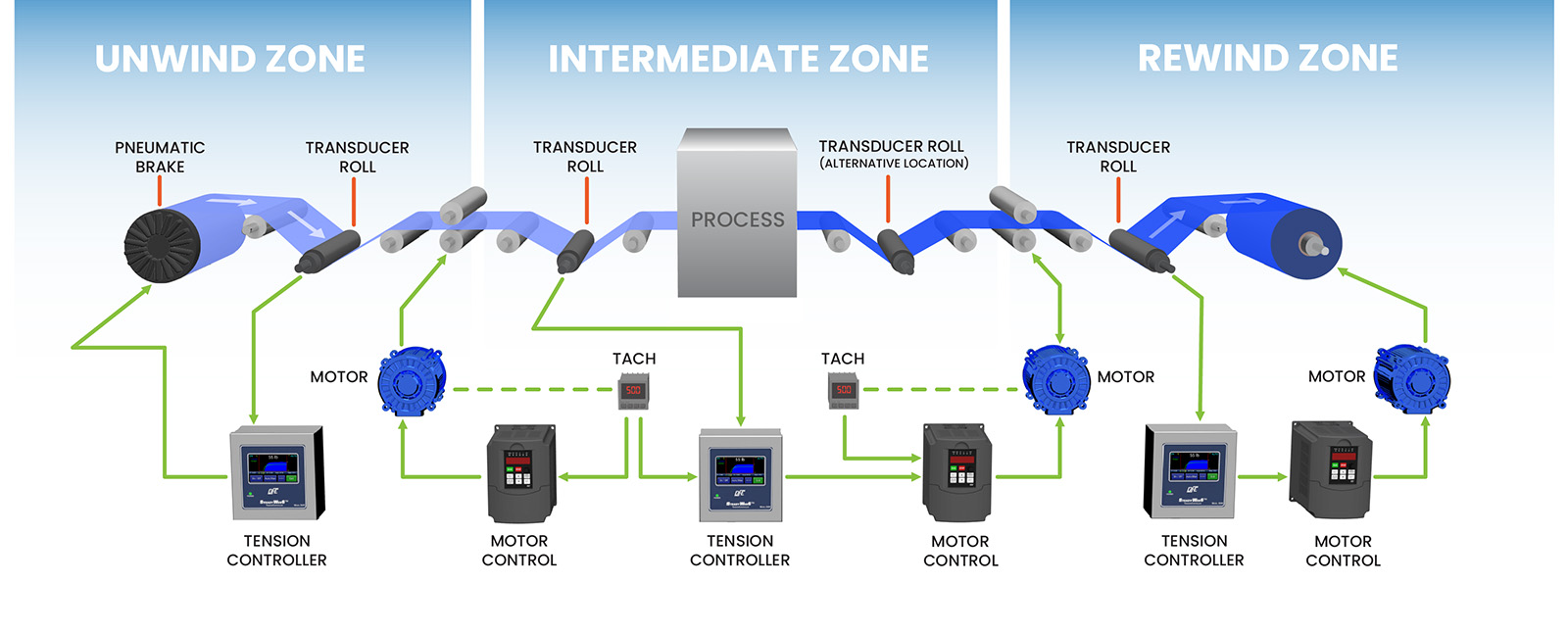 INTERMEDIATE ZONE (PROCESS)
A web process may involve one or more intermediate or process zones. These zones can exist prior to the main drive station, after, or in both positions simultaneously. In the intermediate zone the transducer signal is used only to 'trim' the line speed signal as a follower of the main drive speed signal. This is usually at 5% – 10% of the maximum controller output. When controlling a nip prior to the main drive, the tension controller output slows down the nip to create the correct tension with respect to the main drive section. If the tension-controlled nip is situated after the main drive, then the output increases the nip speed to create tension. Each section must have a positive grip on the web. Nips can be driven by clutches from a line shaft, or by a DC regenerative, AC vector or servo drive.
REWIND ZONE (TAKE-UP)
Proper rewind tension control is essential to winding a consistent, unflawed roll and to prevent starred ends, telescoping, or offset edges of the finished wound roll. The tensioning device being controlled can be a pneumatic clutch, electric clutch or variable speed motor drive.
Taper tension, a feature of the rewind controller that causes its control output to gradually reduce as the roll builds, may be required depending on the maximum finished roll diameter and surface characteristics of the substrate being wound. Winding with taper tension reduces the incidence of telescoping and starred rolls, and can improve spring stability of the finished roll for improved material handling characteristics.
Typical tension control solutions incorporate:
• A closed-loop tension controller such as the SteadyWeb™ 6
• A load cell such as the Tension Roll® Transducer
• A Pneumatic Brake, Magnetic Particle Brake, Clutch or Motor Drive System
Customers integrating tension control with a PLC most often utilize:
• A load cell signal amplifier such as the TA1 TrueTension™ Amplifier
• An ethernet load cell signal amplifier such as the TA500 Tension Amplifier
• A load cell such as the Tension Roll® Transducer, a pair of convertible load cells such as the Model C Series Transducers or Under Pillow-Block Transducers such as the Model F Series