Tension Load Cells / Tension Transducers
Precision-manufactured DFE tension load cells feature semiconductor strain gauge technology, providing superior performance and reliability. Tension load cells are powered by an amplifier, indicator or controller and output a return signal representative of actual tension. The tension signal can be used to enable closed-loop control in conjunction with a torque device, or display tension to assist machine operators with manual adjustments. DFE tension transducers are constructed of stainless steel and aluminum for durability and long life.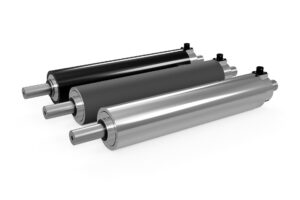 The Tension Roll® transducer, or TR, is a complete tension measurement system incorporating two load cells within an idler roll built to your specifications.  The one piece design allows for quick and easy installation in most converting machines.  Available in 2.25", 3", 4", 5" and 6" diameters and roll lengths from 6" to 120".  Load ratings from 12 to 400 lbs.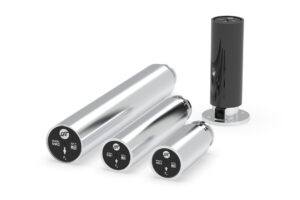 Precision-balanced load cells fixed internally at each end of the idler roll deliver a highly accurate tension measurement. The cantilever mounted dead shaft core and distributed load cell deflection of the NW transducer design delivers exceptional web tracking performance. Load ratings from 12 to 400 lbs.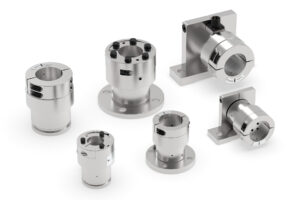 Model C transducers (load cells) are the industry standard for performance, utilizing highly-sensitive and durable semi-conductor strain-gauges. Available in five mounting styles with live shaft or dead shaft couplings. Load ratings from 10 to 800 lbs.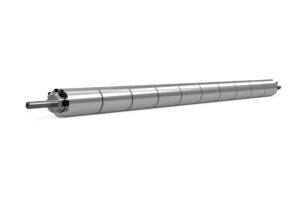 The Segmented Tension Roll® transducer is a specialty idler roll assembly capable of measuring tension on multiple web strands. Well-suited for slitter-rewinder systems or precision web applications where multiple data points must be recorded across a continuous web width.  Per segment load ratings from 12 to 50 lbs.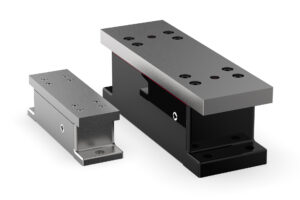 For those measurement applications with a high tension requirement or operation in harsh environments.  The Model F transducer features DFE's semiconductor strain gauge technology for high sensitivity and reliability. IP65 rated for dust and moisture ingress.  Load ratings from 100 to 7,500 lbs (horizontal version).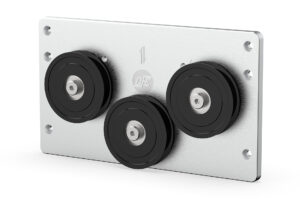 [TW] TRI-WHEEL™ TENSION LOAD CELL

The Tri-Wheel™ Tension Load Cell is a modular fixture designed to be installed individually or stacked in an array. The system incorporates a set of wheels with adjustable positions, allowing an operator to select from multiple wrap angles to measure within a specified range for a given application.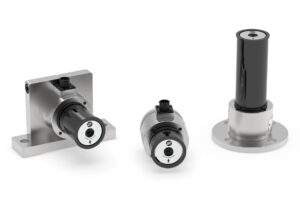 [VNW] VERY NARROW WEB TENSION TRANSDUCER

The VNW Very Narrow Web transducer is a compact tension sensing device for measuring process tension in narrow web (up to 4 inches wide), ribbon or filament. Based on the robust and versatile design of DFE's time-tested Model C shaft-end transducers. Many mounting styles and wheel options to choose from. Load ratings from 10 to 400 lbs.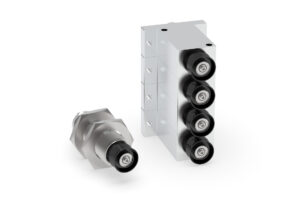 Strong, compact LT Low Tension Transducers convert filament or ribbon resultant force into a voltage signal proportional to tension. Typically used in filament winding, fiber processing and material applications that require tension control at very low levels.  Load ratings from 50 to 2000 grams.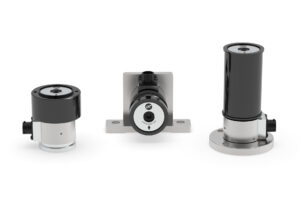 [RFA] RIBBON FILAMENT TENSION TRANSDUCER

The RFA Ribbon Filament Transducers are designed to measure tension in any moving ribbon, filament, or very narrow web. Ideal for wire, plastic, rubber, metal, glass, composite or other flexible substrates. Load ratings from 10-150 lbs.  Minimum calibration scale: 0-200g (10 lb load rating).
All DFE tension transducers / load cells are manufactured in the USA and backed by an industry-leading 5 year warranty.