Web Coating Tension Control
Web coating systems are used in the manufacture of various products including labels, tapes, coated vinyl, sandpaper, flexible packaging, paper goods, circuit boards, foil and decorative laminating.
There are many methods used in the coating process, but all consist of applying a coating material to a flexible web in motion. While each product has its own type of coating line, a typical system is made up of a roll design that includes a metering system for applying coating material to a web, followed by a drying process.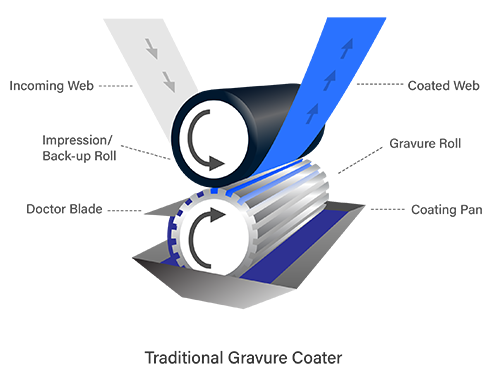 As the web is pulled through the machine's processing zone, there are many variables that can cause coating problems including temperature change, drifting, coating thickness, vibration, impression roll gap, debris and roll speed. The ability to control web tension during and after coating is of paramount importance. If a web does not have proper tension control, it is almost impossible to maintain a steady speed and lay-down rate as the substrate transits through the coater. This can result in damage to the coating or the coating's ability to adhere to the web properly during take-up.
No matter the coating application, maximum productivity and minimum waste is the final goal. DFE offers the highest quality tension sensing transducers and controllers to achieve both consistency and reliability in your coating process.
Typical tension control solutions incorporate:
• A closed-loop tension controller such as the SteadyWeb™ 6
• A load cell such as the Tension Roll® Transducer
• A Pneumatic Brake, Magnetic Particle Brake, Clutch or Motor Drive System
Customers integrating tension control with a PLC most often utilize:
• A load cell signal amplifier such as the TA1 TrueTension™ Amplifier
• A load cell such as the Tension Roll® Transducer, a pair of convertible load cells such as the Model C Series Transducers or Under Pillow Block Transducers such as the Model F Series